Guvnors Assembly Long Sleeve Merino Wool Cycling Jersey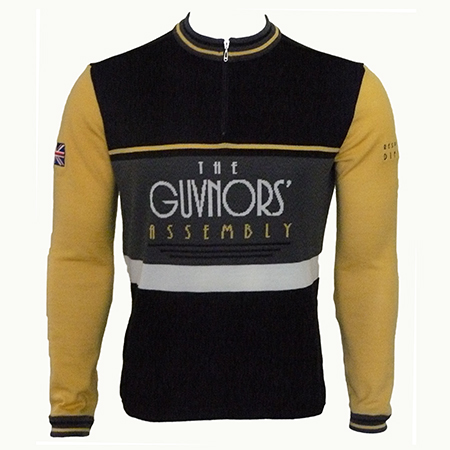 The Pashley Guv'nor is a revival of one of Pashley's oldest designs, the 1930s Path Racer. Boasting Reynolds 531 steel, gold lined black alloy Westwood rims, a Brooks B17 leather saddle and Sturmey Archer hub brakes, the Guv'nor is the epitome of refined British road cycling, with it's own fan club - The Guvnor's Assembly - to boot. Naturally when they needed a suitably timeless jersey of their own design, they came to Soigneur.

Check the 'Associated Items' tab below for more in this theme.
100% ultra-fine 19micron Merino wool.
Breathable, heat-regulating, and as soft as silk, cashmere or alpaca.
Pattern knitted into the fabric not printed on.
3 back pockets.
Machine washable.
YKK zip – The world's best regarded zip. Easy to pull up or down while riding.
UV and odour resistant.
Water-repelling.
Customisable options for taller riders (just email us).
Short and long-sleeve options.
Customisable if you would like simple variations of text or colours.
We stand by the quality of our jerseys and have a "no questions asked" money back guarantee if you are not 100% happy with your jersey.
In the unusual event you receive a flawed product, return it within a fortnight with a note explaining why you are unhappy and we will send you a replacement at no charge within a fortnight of receiving your returned item. We recommend you email us beforehand in case we can come to a better solution.
If you wish to exchange for a different size, we can do that too, just return it to us and specify the replacement size you want and we will send you your replacement within the normal production time of 1-2 weeks.

Return to:

Soigneur Ltd
28 Hoko Rd
Rotorua 3096
New Zealand
Email: david@soigneur.co.nz
Phone +64 211 456 121