Custom, Personalized Cycling Clothing Jerseys in Merino Wool

It is easy to get personalized, custom merino wool cycling jerseys made to order.
Manufacturing time is just 2-3 weeks.

The minimum order number is usually just 6 jerseys, but we can do some designs as single-orders.

We can do all designs in both short and long-sleeved options.
Designing your Personalised Wool Cycling Jersey
We'll help you with your design - just 4 easy steps
Let us know what sort of design you would like (e.g. short or long-sleeved, colour preferences, logos and text, maybe a design we have done before which you like as a starting point). You can use our Jersey Templates or just draw a picture and send it to us - you don't need to be a super designer or Photoshop wiz.

Then we will produce and email to you a picture of how your jerseys could look. (No cost or obligation for you to proceed).

When you are happy with the design tell us your order details and we'll arrange payment to get your order underway.

Sit back and wait for your one-of-a-kind custom jersey! Production time is within 3 weeks of design sign-off.
You don't need to be a design wizard - the picture below is a typical example of how we are often sent design ideas.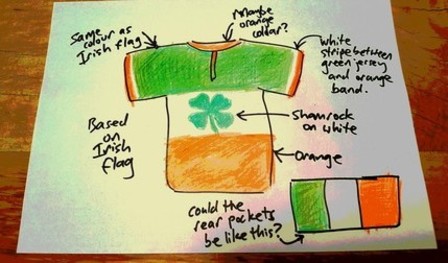 Just email David at david@soigneur.co.nz with your ideas and we can design something personalized for you with no cost or obligation.
Send us whatever you're thinking of - logos, colours, other designs you like.
You can use this paint program to design your jersey. Just open one of our jersey templates and start designing. paint.net.4.0.3.install.zip
Or, you can design your own using one of our templates. Right click on a link below and 'Save Link As...'
Our colour range below. These colours will vary on different computer screens. Generally in real life they look much more vivid and rich, take a look at the jersey pictures sent in by our happy customers to get a better feel for how the coloiurs look in real life..


Things to keep in mind when designing your personalized cycling jersey
When thinking about your design, bear in mind that our jerseys are not printed, the pattern is knitted into the fabric. This means that there are some limitations to keep in mind. Have a look at some of the example designs in our Custom Jersey Gallery and you will see that there are only 2 colours in any horizontal row (we can use 6 colours total). Bold simple designs work best. If you need small areas of very fine detail we can use embroidery.
Please ask if you have any further questions. Email designs, logos, fonts and enquiries to david@soigneur.co.nz