BSA (front)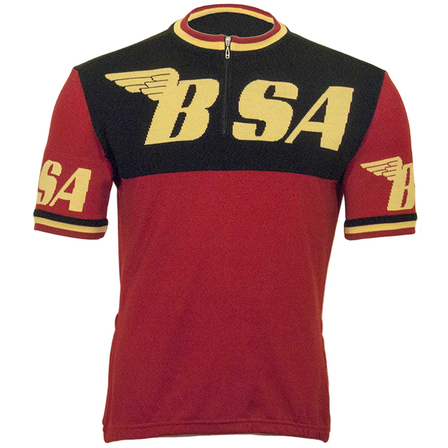 See more details and purchase options
This jersey commemorates the BSA team, launched in 1952 by the Birmingham Small Arms Company that was established by 14 gunsmiths in 1861 and building bicycles since 1880.
The BSA professional cycling team used the design skills of Bob Maitland, a BSA draughtsman who was also an Olympic road rider to design their new line of sports bicycles.
Success came fast. In the 1952 Tour of Britain the BSA team won the overall team race and "King of the Mountains" classification. The team competed and won four further events that year and won eight the following season. Team riders such as Bob Maitland and 'Tiny' Thomas became household names.
BSA roadster and sport bikes naturally became very popular, but as with so many English marques, they were absorbed by Raleigh and eventually the name and the team was retired.