Personalized Bikepacking and Gravel Riding Merino wool cycling jerseys
Bikepackers, gravelleurs and gravel-grinders are special type of cyclist, with a lot of unique characters and styles. But one thing that bikepackers all have in common is the struggle to be comfortable when spending long hours on the bike. That's even harder when you're riding in a wide range of temperatures from dawn to dusk and through the night.

Soigneur 100% merino cycling jerseys enable gravel riders and bikepackers to be comfortable over a much wider range of conditions than any other material. After all, Merino sheep evolved to grow superfine wool, not polyester or polypropylene! This makes them the perfect jersey for bikepacking epics.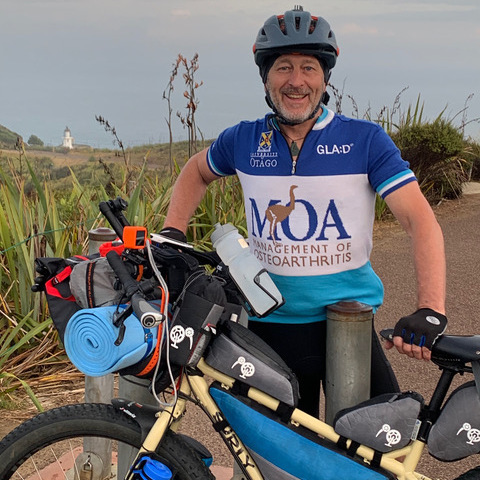 When you're riding with a Soigneur merino cycling jersey you know you're going to be able to carry less clothing, less weight, and less bulk than other riders carrying multiple items for 'layering'. They don't get smelly either, so you can wear them for days at a time and still get a hug from your partner when you return home.

Soigneur merino cycling jerseys are most comfortable over the range from 10° to 25°. Add arm-warmers and a light jacket and that's all you'll need. Because of the wicking properties of wool, you don't need a raincoat in light rain or fog.
I rode >3000km in <30 days fully loaded bikepacking in a custom one. It was brilliant - breathed really well in hot humid weather - surprisingly, as I thought it might be a bit thick and warm - and kept me toasty in the cooler weather as I went South and up into altitude.
Hard-wearing and smell-resistant, too. I have a long-sleeve one too, that I'm wearing on winter training rides right now, and I also wear it giving talks on my topic - it's quality fabric, and the custom knit is great for marketing and promo.
Altogether 5-stars *****

~ Haxby Abbott
Click here to see our range of classic jerseys or here to learn about making a personalized custom-design jersey especially for your next bikepacking or gravel riding trip.
Caution: As Eroica and retro cycling gets more popular there are many manufacturers jumping onto the wool jersey bandwagon and making substandard wool jerseys, compromised with substandard artificial fibres like polyester or using itchy, scratchy non-Merino wool.
If your woolen jersey isn't 100% Merino wool you lose the benefits of this wonder fibre and have a less comfortable jersey too. Whether you buy Soigneur or not, make sure your woolen jersey is 100% Merino!
Remember we offer cycling jersey Gift Vouchers too, so that special person in your life could get a personalized bike-packing jersey too.