Why gravel riding is best for 10-year-olds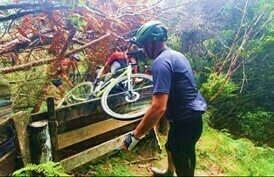 Down here in Soigneur's neck of the woods we're blessed with a lot of fantastic gravel riding options. As well as rural roads, we're surrounded by many old commercial logging forests which are criss-crossed by 100's of kilometers of isolated, quiet gravel roads. We are very lucky.

As we also have excellent road riding and mountain-biking, gravel riding is where the roadies join up with the mountain-bikers, and so most weekends will see disparate groups heading into the wilderness to try some new routes or revisit some favourites. Last week's 90km gravel excursion ended up with us soaking in natural hot springs before decamping to a country pub. It's a tough gig but we'll tolerate it.

Because of the old forestry roads we use, many of them are not sign-posted, seldom maintained, and often at odds with any maps or satellite pictures we've used to plan our way. A clear white trail on a satellite map may well be an unrideable sandy riverbed, a clear-looking road now a forest of blackberry.

As a result, the rides inevitably have a touch of adventure about them. As well as the frequent fallen trees that need to be traversed, we sometimes encounter deep trenches dug to prevent motorcycle access, washouts that leave deep ruts where roads used to be, and roads that have been co-opted by nearby farmers for their stock. Sheep are fine, bulls less so.

It's often difficult to determine where a public road ends and a private farm road starts. Some farmers willingly allow their farm roads to be used by locals, others don't – and you only learn the flavour of the farmer when he turns up with dogs and guns telling you to get the %&$*@# off his farm.

Did we mention the security guards who patrol some of the forests? They have no legal clout and they know it, but it pays to be good with the sweet-talk.

Take all the above challenges and throw in hours of sweet sweet gravel riding with good mates, and you have the makings of epic days in the saddle, ripping yarns and memories that last forever.

It's those memories that make gravel adventures seem like the stuff of childhood. If you were lucky enough to have the type of childhood full of after-school neighbourhood exploring, sneaking through back-yards, playing on building sites, doing tricks on bikes and getting muddy in the woods, you'll know what I'm talking about.
There's many a time when we're in the middle of nowhere, squinting at maps, wading through streams and climbing over gates that the inner 10-year old resurfaces, grinning wildly at the fact that a bunch of blokes in their 50s are still just having fun messing around with bikes.

There are 10-year-olds still inside us all – grab your bike, get some mates and let that 10-year-old grin come back. Hot tip: do it in a Soigneur jersey for 20% more grin.
Posted: Sun 24 Jul 2022