One thing that's pretty nice about Soigneur's neck of the woods is the abundance of mountain-biking options. Although most Soigneur fans are roadies, down here in New Zealand's Rotorua most riders cycle on and off-road because the mountain-biking is so good. In particular, when it's windy or wet, tucking yourself into miles of bush-clad single-track is a great alternative to the seal.
Added to the crafted trails of the world-renowned Whakarewarewa forest in Rotorua is a growing collection of 'back country' trails, built in the lush, remote New Zealand native bush that anyone who'se seen Lord of the Rings or The Hobbit will be familiar with. Remarkably, most of these mountain-biking trails are built and funded by the government, who has recognised the value of cycle-tourism, and the fact that an increasing number of tramping or hiking tracks are now being traversed on wheels rather than on foot.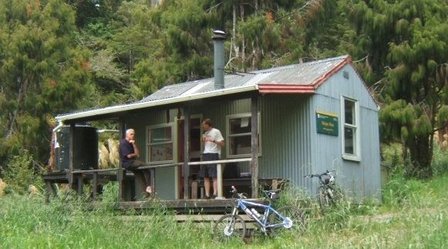 One of the back-country huts along the Moerangi trail
One of the best such trails is the Moerangi trail, an hour's drive from Rotorua. Part of the remote, mist-clad Urewera Ranges, the Moerangi trail winds for 35km through ancient native forest that was almost felled 25years ago, and only saved after a concerted environmental protest. The forest is the fantastic podocarp 'Jurassic Park' variety, full of trees as big as Cipollini's ego, ferns as big as bedsheets, and vines as thick as a Kierin rider's thighs (picture the amazon jungle without the surfeit of beasts trying to kill you). Have a problem on this track and you'll need a radio to call for help and a helicopter to receive it.
Conventional wisdom is that the Moerangi track is best tackled as a point-to-point affair from North to South. This provides a winning climb-descent combination that makes the track a must-do a few times every summer. However, at around three hours' duration there's usually fuel left in the tank at the end, so this month we decided to ride it as a there-and back, riding the hardest direction first then returning the comparatively easy way.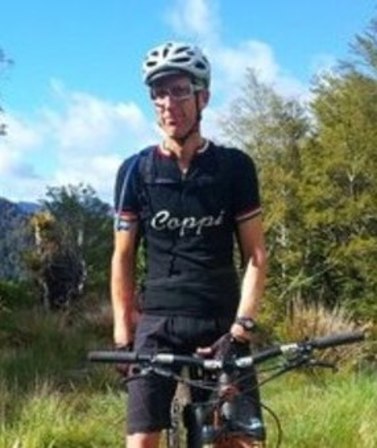 Soigneur's David Carman modelling a Coppi jersey and his new 29er (he's happier than he looks)
On this point, the two of us agreed, and this was the last point at which we seemed to have anything in common. On one hand, we had David, the director sportif of the Soigneur enterprise and one-time hot-shot roadie with the palmares to match. Fresh and raring to go, tall and with 2% body fat, David turned up with his brand new Santa Cruz Tallboy LTC 29er with Sram XX1.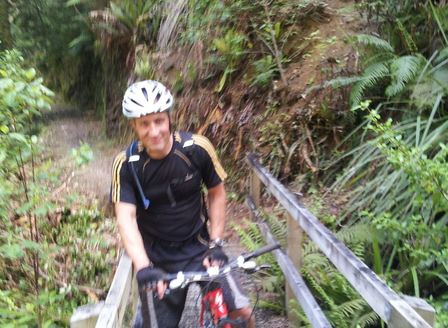 Jon catching his breath ... photo deliberately blurry to match his vision.
In the other corner, we had shorter, heavier Jon, who spent his money on a Bianchi Infinito, leaving his off-road exploits to a cheap leaden single-speed. Single-speeding is all about strength, which Jon normally has in spades, unless of course he spends the previous day climbing mountains with his family – not the best prep for a double traverse of the Moerangi track.
So off the two of us set, with the first hour of the track comprising a constant steep and technical climb. A climb that David rode up with relative ease, while Jon, with his borrowed bike that challenged the inveterate single-speeder to re-learn granny-gear high cadence spinning, to marvel at the ease with which he could walk in Crank Bros cleats.
And so it was for much of the day – a day estimated to take around seven hours yet ended up taking nine. A day that gave David plenty of time at the tops of climbs to take in the stunning New Zealand bush while waiting for Jon to walk up. A day that involved meeting hunters in isolated huts, clambering over fallen trees, inching across narrow tracks cut into sheer rock-faces and questioning how Jon could still handle fast technical descents yet crash on one of the easiest corners of the track. A day that finished with a few beers after swimming in a nearby river complete with a waterfall to duck under.
For David, one of the best all-day rides he's done.
For Jon, one of the hardest walks….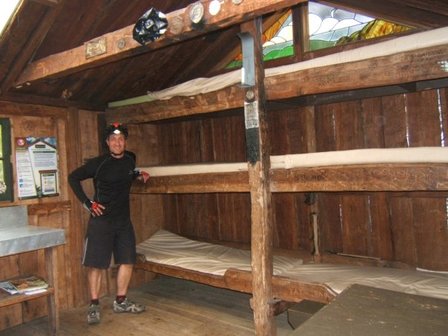 Inside the hand-built Rogers Hut, Moerangi Trail.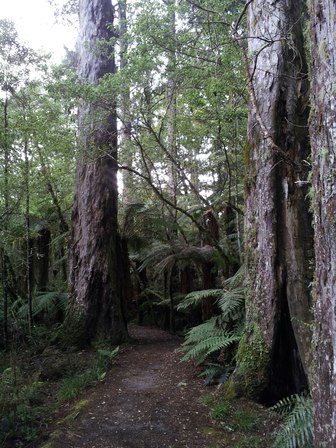 Ancient podocarps in the New Zealand bush - Moerangi Trail
More Moerangi Trail links here: